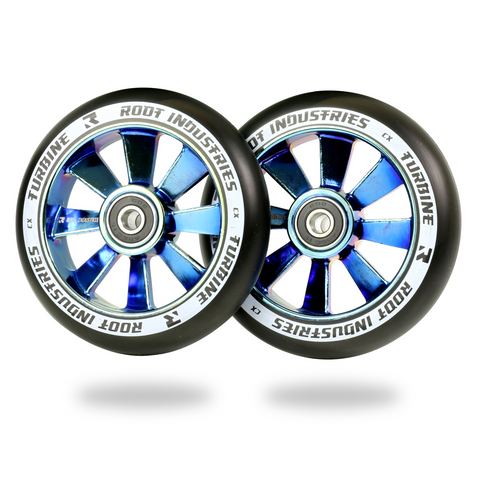 Root Industries
Root Industries Turbine Wheels 110mm | Black / Blue
---
ROOT INDUSTRIES TURBINE 110MM WHEELS  | PAIR
Root Industries are constantly innovating and pushing the boundaries of what is possible in the scooter industry, utilising technologically advanced manufacturing processes to produce only the highest quality products.
The all new Root Industries Turbine Wheels continue this trend, and after months of development and testing with their amazing team of pro riders, Root Industries have created a spoked design never before seen in our sport.
Featuring 8 blade-style spokes, engineered to be lightweight while increasing core strength, the Turbine's spokes use the same engineering principles as the blades from a wind turbine. These tapered blades reduce the drag of the wheel increasing the efficiency to generate and maintain speed as the wheel is rolling. The Root Industries tapered blade-style spokes are also stronger and lighter than standard flat or straight spokes.
Matched with the classic high quality Root Industries PU formula that is known for it's speed these amazing wheels continue Root Industries "pursuit of perfection"!
Professionally pre-fitted with the super fast Root Industries Abec 11 Bearings the new AIR wheels give you high quality and value for money!
WARNING: The technology behind the Root Industries Turbine Wheels may cause increased lift when riding. Root Industries are not responsible for any unscheduled flights taken as a result of riding the Turbine Wheels and you need to be aware you may be subject to aviation regulations in your area.
---
Share this Product
---
More from this collection