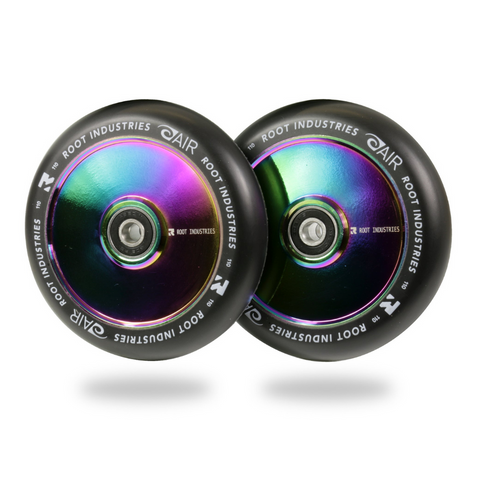 Root Industries
ROOT INDUSTRIES AIR Scooter Wheels 110mm Black / Rocket Fuel - Sold As A Pair
---
Discover the Unbeatable Performance of Root Industries Air Wheels - The Best 110mm Scooter Wheels Available!
Are you in search of the ultimate scooter wheels that deliver unmatched speed, strength, and lightweight design? Look no further than Root Industries Air Wheels. Weighing a mere 190 grams (220 grams with bearings), these wheels feature revolutionary hollowcore technology. Experience the extraordinary strength of twin plate arches combined with the feather-light feel of air in the inner chamber.
Root Industries takes pride in its classic, high-quality PU formula renowned for its exceptional speed and strength. When you choose Root Air Wheels, you're guaranteed a premium riding experience. Trust in our commitment to providing only the best.
For superior performance, our Air Wheels come expertly pre-fitted with the lightning-fast Root Industries Abec 11 Bearings. This winning combination ensures unrivaled speed, precision, and longevity. Get the most out of your investment with wheels that deliver both high quality and outstanding value for your money.
Did you know that since their launch in August 2015, Root Air Wheels have consistently outperformed all other wheels on the market? Their immense popularity speaks volumes about their performance and reliability. Root Industries dedicated over two years to perfecting a unique urethane compound used to craft these exceptional wheels.
When you choose Root Industries Air Wheels, you'll receive a pair of these extraordinary wheels, allowing you to effortlessly upgrade your scooter's performance. Whether you're a casual rider or a devoted enthusiast, our Air Wheels are the ultimate choice for surpassing your limits.
Don't settle for anything less than the best. Experience the unmatched speed, strength, and lightweight construction of Root Industries Air Wheels today. Elevate your scooter's performance and embark on an unparalleled riding experience. Join the countless riders who have already discovered the power of Root Air Wheels. Order yours now and experience the difference for yourself!
Sold as a pair. 
---
Share this Product