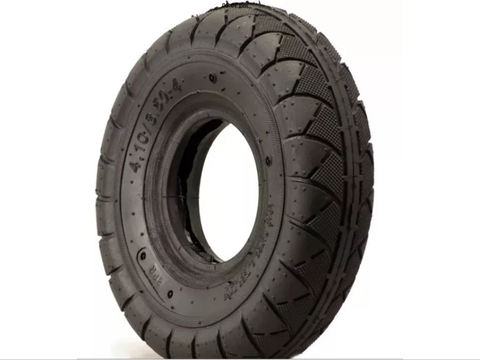 Rocker bmx
Rocker Mini Bmx standard street tyre & inner tube
---

STANDARD STREET TYRE INCLUDING FREE INNER TUBE

Here we have the all new Street tyre from Rocker BMX. This can take more pressure (we advise no more than 60 psi as your wheels could be damaged). These roll SUPER fast and smooth and they hold their shape better than the standard tyres fitted to most mini BMX's. No more wobbles and they look pretty sick too. A must have if you are serious about riding skateparks & street.
Size 4.10 / 3.50-4

Rockers are a RAD innovation designed by BMX riders at Rocker BMX LTD. The boys have spent a very long time developing the perfect geometry and component selection to make Rocker BMX's easy to ride, comfortable and of course to look totally sick.
Rockers are about having a blast with your mates and are quickly becoming the latest craze. You may well have already seen dudes shredding them your local park & wondered, where can I get one??? Well you can get one here, at pro Xtreme sports
Rockers are chunky scaled down mini versions of 20" BMX's designed to take a serious amount of adult sized abuse. Fat tyres, massive bars, top load stems every bit as RAD as a 20" & great fun for kids from 4 years old to Dad's of 40 years old. With plenty of colour-ways to choose from including LTD editions, some people have already started collecting them.  

Pro Xtreme sports
248 BRADFORD ROAD
LIVERSEDGE
WF15 6DZ
WEST YORKSHIRE

07790 26056
---
Share this Product