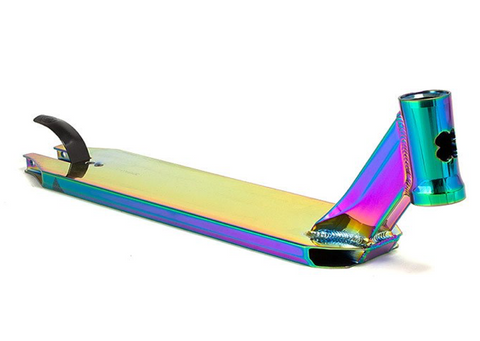 Lucky
Lucky Covenant Scooter Deck - Neochrome
---
The Lucky Covenant™ is a beast of a pro scooter deck and it ain't afraid to show it. From neo chrome to red this deck screams "I'm the business". It's got all the bells and whistles any deck in the industry has; flat edges, a steel flex brake, integrated headset, and the perfect headtube angle (82.5).
Lucky made this deck light weight yet they able to keep more than enough strength to take the hardest tricks in the industry and still keep going. Everything on this deck is perfect for any sized rider and we think you'll agree.
Flip the deck over and you'll be trippin at how good the deck graphics look. We not only wanted to make the scooter amazing but we wanted to have the best graphics in the industry and achieved that working with local Northwest artist, Shogo Ota. 
The Lucky Covenant™ Deck comes in: Raw, NeoChrome, Blood Red and Black.
Includes: SteelyBrake, axle, and spacers. 
Material: Extruded 6061 aluminum T6
Finish: Anodized
Dimensions: 20.5" x 4.45" (521 mm x 113mm)
Weight: 3.2lbs (1.45kg)
Neck/Headtube: Forged/CNC, Integrated (Headset sold separately)
Headtube Angle: 82.5º
Bottom and Sides: Flat
Concave: 4º
Welds: TIG, Hand/Robotic
Brake: Black SteelyBrake 
Hardware: High tensile steel rear axle bolt & spacers
Deck Art: Shogo Ota
---
Share this Product
---
More from this collection