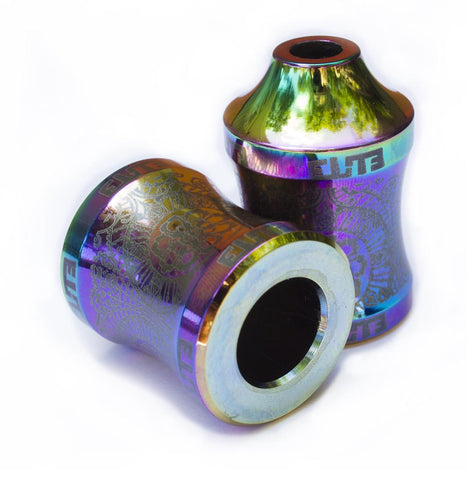 Elite
Elite Concave Scooter Pegs -NEOCHROME
---
ELITE CONCAVE SCOOTER PEGS NEOCHROME 

Product Description
The new Elite concave scooter pegs 

Elite Concave Pegs are re-inventing the industry..

Colours: Neo Chrome

Material: 6061 T6 Aluminium

Elite pegs offer concave allowing riders lock into curved/rounded coping making icepick & toothpick tricks a dream. Elite pegs also offer a 5mm flat surface at either end of the concave to sit flush on flat/square rails making Elite pegs the best all round pegs on the market.

Perfect for all rails & copings!

These pegs have been designed & developed with our riders for a very long period of time to ensure for the best pegs. Elite pegs offer our unique laser etching design to really make them look classy. Elite pegs have been made chunkier to increase the lifespan of the peg to prevent them from wearing down. Manufactured from 6061 T6 Aluminium to make them super lightweight & extremely strong.

Elite Concave Pegs includes axels & bolts - Sold as a pair.


---
Share this Product