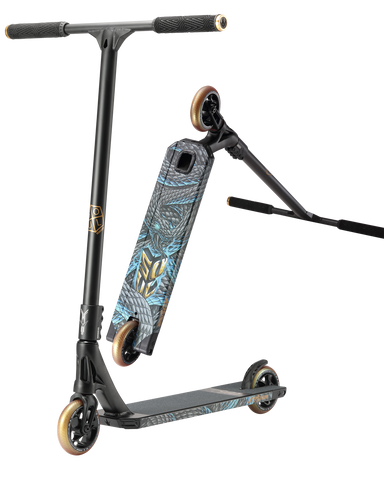 Blunt
Blunt KOS S7 Soul Complete Stunt Scooter
---
Blunt continues to rule on the streets and at the parks with the help of the 2022 King of Spades Series 7 Completes.  Seriously upgraded to take on any of those new learns - wherever - these rides are seriously smooth, responsive and won't give up even if you do!
 Read about each of our available KOS S7 Completes below to find out more about what makes them each so unique!
KOS Complete S7 - Soul
This year's KOS Series 7 line-up includes the NEW KOS Soul, the ever-classic street slayer amongst the KOS Series with the T-style bar and SCS addition.
Suitable for the intermediate to advanced rider wanting to shred either at the park or on the streets.
KOS S7 Soul includes quality parts with new killer graphics on premium stealth paint finish, making this top level aftermarket parts setup the ultimate ride.
This year's series is stacked with the most amount of sought-after, high-quality aftermarket parts, making this a dominant stunt street scooter across the series' line-up. With OVERSIZED Chromoly SOUL bars, this makes for a solid T bar construction with added gusseted supports, 30mm wide wheels for a smooth ride and the addition of SCS.
This KOS Soul model features the NEW Will Scott Signature Handgrips that are extremely durable and offer the perfect grip for the scooter with added bar protection with the Halo bar ends.
Other parts include the OMEN SCS clamp with 6mm bolts, 30mm Tri-bearing wheels with Gold PU giving a seriously smooth and responsive ride, Declare SCS forks – a perfect fit for the 30mm wide wheels, AOSV4 X KOS 6061-t6 extruded Aluminium deck, and Integrated head tube at 84 degrees fitted with Boxed ends.
By utilising the AOSv4 signature headtube combined with the KOS headtube cut-out, this calls for one fine looking deck profile.
This ever-classic stunt scooter is finished off with Boxed ends, a nylon brake system, nylon front plate, and rear inserts.
---
Share this Product
---
More from this collection