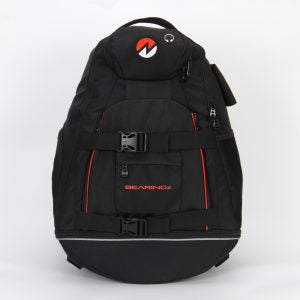 Bearingz
Bearingz Stunt Scooter / Skateboard ruck sack / backpack with free delivery
---
Take your passion one step further with the new Bearingz Backpack! Introducing a revolutionary way of transporting your extreme sports equipment, the Bearingz Backpack offers 2 Scooter holding areas and 2 Board holding areas with its practical and roomy design!
Ergonomically designed to offer the most support for your ride whilst providing plenty of storage room within.
This rucksack also includes: a phone charging pouch with an on-board phone bank; a removal laptop sleeve insert; and an exclusive helmet storage area, which also acts as extra storage space at the bottom of the bag.
Whether you're in to the most extreme of sports or your just up for a picnic at the park, this bag has it all! Grab one for yourself today and make sure that you're always prepared for whatever life throws at you!
Dual, padded shoulder straps
Top loop handle for alternative carrying methods
Buckle fasten. clasp straps at the front and sides for Scooter/Skateboard support
Zip fasten closure throughout
Ergonomic headphones port
Phone charging pouch, inclusive with an on-board phone charging bank
Removable smart pad/laptop bag insert
Exclusive helmet storage area which also acts as a storage section at the bottom of the bag
Materials:
100% 900D Polyester
Dimensions:
21.25" (H) x 15.75" (W) x 13.20" (D)
54cm (H) x 40cm (W) x 33.5cm (D)
FREE DELIVERY ALTERNATIVELY COLLECT IN STORE FROM
WEST YORKSHIRE'S PREMIER STUNT SCOOTER STORE
PRO XTREME SPORTS
248 BRADFORD ROAD
LIVERSEDGE
WEST YORKSHIRE
WF15 6EB
07790 260562
---
Share this Product